Start Social Media Marketing: Running a Social Media Marketing Agency (SMMA) is one of the most desirable business models of 2021, and yet there remains no basic guide to starting one.
How to start Social Media Marketing (SMMA) in 2021
In this post, you'll learn exactly how to start social media marketing 2021.
What is an SMMA?| Start Social Media Marketing
Simple: SMMA stands for 'Social Media Marketing Agency'. However, this has become a shorthand for the business model surrounding running one: whilst large corporate agencies are technical 'SMMAs', the term is more often used to refer to lean, remote agencies with lower associated costs.
Creating your Social Media Marketing Agency (SMMA)
How to start Social Media Marketing (SMMA) in 2020: The fantastic thing about creating an SMMA is that it involves almost no start-up costs. Unlike nearly every other business model, an SMMA requires just some sort of online presence and a method of outreach.
When starting out, most agency owners start with just a simple Gmail account and a Facebook page for their agency.
And in most countries, there is no legal requirement to run your agency through a legal corporation: instead, you can run a business as a 'sole trader'.
If you're really serious about creating your agency, you can purchase a personalized domain name from GoDaddy or another domain hosting website, often for less than $10 a year. These websites often feature a free limited website builder and email hosting.
Personally, I would recommend that you also use G-Suite.
But if you're really on a budget, it's free to register for Gmail, and create a Facebook page for your agency!
Don't forget to think of a name for your agency: keep it simple. My own agency is called IAG Media (my initials).
Read more about how I started in SMMA here.
How to get clients for your Social Media Marketing Agency (SMMA)
start Social Media Marketing: Once you've 'created' your agency, the next step is finding clients.
This is often described as the hardest part of running a social media marketing agency, and the process of finding clients as difficult. But the truth is: it's a simple process that's often over-complicated.
Because of the wide range of businesses that SMMAs can work with, and the wide range of services they can offer, there's never a shortage of potential clients.
Of course, because there's so much choice, it's useful to find a 'niche'.
Choosing your niche
In the world of SMMA, finding a 'niche' just means focusing on one business area. For example, many agency owners focus on the restaurant niche: offering their services to restaurant owners.
As well as helping you narrow down in your search for clients, it also improves your ability to serve your clients.
Once you begin to work with restaurant owners, you'll be able to understand the issues they face, and how to help them.
It's important to remember that choosing a niche doesn't mean you're stuck with it for life: you can always change it if you find it doesn't suit you. My own agency has served several niches, and now currently works with eCommerce and info-product businesses.
Actually choosing your niche comes down to what you have the most knowledge in, what you're most passionate about, and (often) where you already know business owners.
Typical niches include restaurants, dentists, real estate, gyms, and car dealerships.
Finding leads| Start Social Media Marketing
Once you've decided on your niche, it's time to go looking for 'leads'. In the world of sales and SMMA, 'leads' are potential clients for your agency, and it's your job to convert these leads in to clients.
There's lots of software that helps with finding leads like Lead Carrot. But when you're first starting out, it's as simple as looking in your local area using Google Maps.
Go to Google Maps and choose your current location, and click 'nearby'. Then type in your niche: Google will produce a list of local businesses. Open up Google Sheets and start inputting the names of the businesses, along with their numbers and email addresses.
In a single day, you should be able to create a list of around 100 businesses.
Outreach
Once you've created a list of leads, it's time to start reaching out to potential clients.
Many potential agency owners find this process stressful as it involves speaking to business owners for the first time, or 'cold outreach'.
However, whilst some agency owners feel comfortable picking up the phone and reaching out to businesses, others prefer to reach out via email, or direct message.
The most important aspect of outreach is that you remember: you're not selling someone your services straight away. You're selling them the next meeting where you can explain your services.
The easiest way to do this is to follow a simple script. (Check out the link to the free training at the bottom of the page to see how you can get a FREE script).
Closing a client
Now you've got your meeting, it's time to sell your services. We'll go into what services you offer in a second but all of these have one thing in common: they will either save the client time or make them money.
Whilst you would hope that most business owners would understand the benefits of this automatically, it takes a bit of work to get them onside!
That's why we recommend a four-stage process for signing clients:
The 'Digging' Stage: here you ask the business owner the important questions about their business: what their current revenue is, what problems they have, and what they're looking to achieve.
The 'Emotion' Stage: you'll need to get the business owner to buy-in emotionally. Why do they want to make money or save time? To spend more time with their family, or to be able to do more with their life?
The 'Logic' Stage: once the client is emotionally-bought into your service, now you can explain to them why it works, and how your service will actually help them.
Now it's time for the 'Close'. If you've gone through the previous three stages correctly, all you need to do is to agree on a price with the business owner and close them as a client.
How to service your SMMA clients and start Social Media Marketing
As an agency owner, it's down to you to decide how you want to service your clients.
Earlier, I mentioned that services broadly fall into two categories: convenience-based and results-based.
Convenience or results: which service should you offer?
In the world of SMMA, we count social media management, account growth, and content creation as 'convenience services'. They are services that the client could reasonably deliver themselves: so you are saving them time by offering them.
By contrast, results-based services such as paid social advertising, SEO, or email marketing promise results, rather than convenience.
Whilst social media management may seem appealing to begin with, it's also far more difficult to sell to clients, and to retain them for this. That's why most of our students choose results-based services.
Specifically, paid social advertising. Why? Simple: it offers the clearest return-on-investment, doesn't require you to invest in software, and it's relatively easy to learn.
Which channel?
Whilst it's possible to advertise on Facebook, Snapchat, Twitter, TikTok, Google, and LinkedIn, we still recommend starting with Facebook.
Why? It's the largest of all the social platforms, includes Instagram, and still allows for fantastic targeting and re-targeting options. Perhaps most importantly, it also allows for native lead generation.
Setting up your business account
Here's where things get a bit technical.
You'll need to create a Facebook Business account. This is the simple bit: just go to business.facebook.com/create and follow the steps there.
Once you have a Facebook Business account, and a Business Manager for your agency, you'll need to connect your client's ad account to your Business Manager or help them set up an account. Just make sure you use their card details, not yours!
Creating an advert
Whilst there are numerous types of adverts you can run on Facebook, we're going to focus on one of the most useful for businesses: lead generation. This is a type of advert that collects the names, phone numbers, and email addresses of potential customers.
Setting one up is easy, you go to your Business Manager, click through to Ads Manager, and then 'create ad'.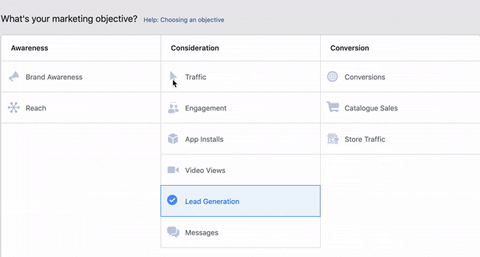 Once you're in there, you need to choose your budget and your audience demographics.
For the actual advert itself, you don't need any complicated graphics or professionally-filmed videos, just stick to a static, lifestyle-imagery and long-form copy (for the caption).
The client should be able to supply you with lifestyle images but if this fails, just use a royalty-free image website like Unspash.com
Talk to your client about what they can do to encourage people to submit their details: can they offer a discount or something for free?
Your copy should be plain and simple: don't try and write anything cute or clever, write as you would if you were trying to convince one of your friends to take them up on the offer.
Giving the leads to your clients| start Social Media Marketing
Once your advert starts collecting leads, it's time to pass them onto your client. You can do this simply by downloading the leads regularly and sending them to your client, but it's best to use software like Zapier.
Rinse and repeat!| 
The more adverts you create, the more clients you serve, and the more you work on your agency, the better you'll get. And the better the results you get, the more referrals you'll get from your clients. And the more clients you have, the bigger your agency gets! It's a brilliant virtuous circle.